Investing in Human Capital for Disaster Management (INVEST DM): Planning Education and Training for Risk Reduction in Indonesia and Hawai'i
Principal Investigator and Project Director: Dr. Karl Kim
University of Hawai'i Team: Dr. Lily Bui, Dr. Jiwnath Ghimire, Charles Ham
Indonesia is a nation of islands. It shares this geographical attribute with the archipelago of Hawai'i. Both places also share something else in common: they are susceptible to the same hazards: sea-level rise, volcanoes, flooding, landslides, wildfires, earthquake, tsunami, drought, storms, and other climate-related threats. In 2019 alone, Indonesia experienced approximately 3,600 disasters, accounting for between $300-500 million in economic losses. The COVID-19 pandemic has also added further complexity to existing disaster management challenges within the country, as 2.76 million people have been pushed into poverty since the pandemic began, undermining key development gains. As such, there is much knowledge to be shared across Indonesia, Hawai'i, and other island communities in the Asia-Pacific Region.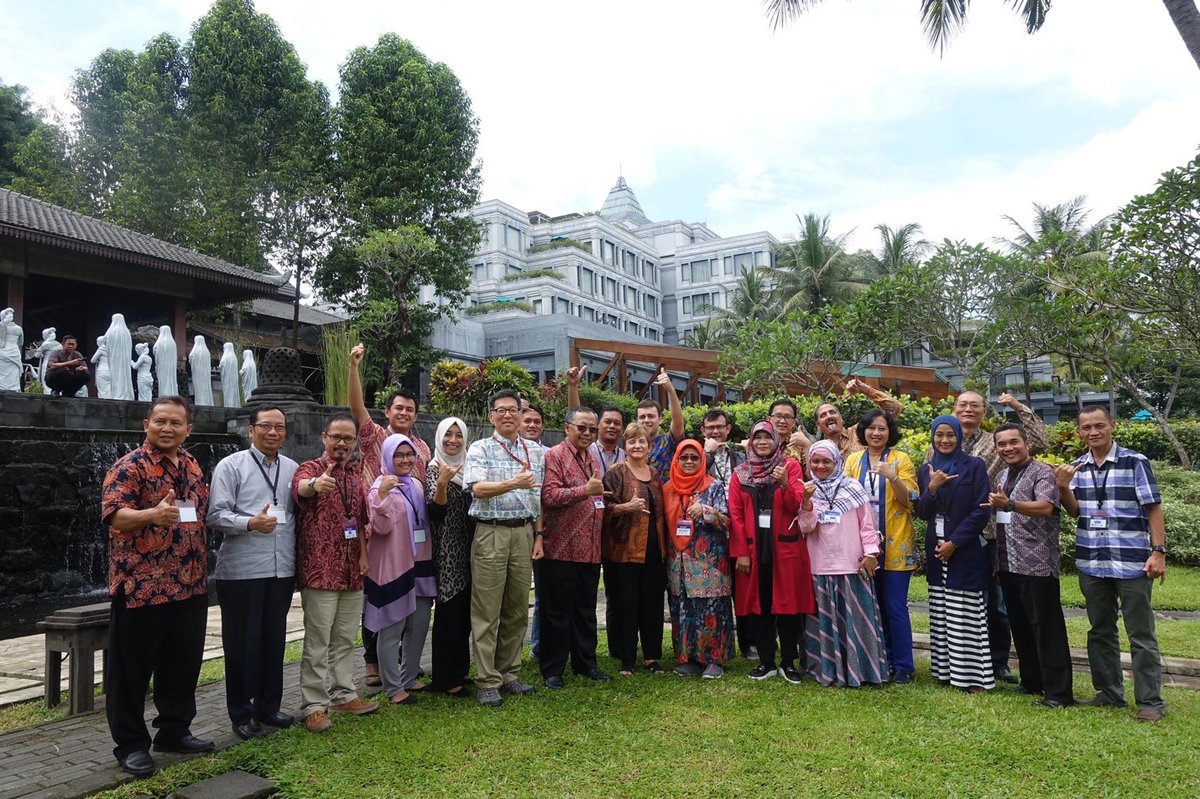 The Department of Urban and Regional Planning (DURP) in the College of Social Sciences at the University of Hawai'i at Mānoa recently received a $400,000 award from Mercy Corps and the Bureau of Humanitarian Affairs (BHA) at the U.S. Agency for International Development (USAID). The award supports INVEST-DM 2.0 (Investing in Human Capital for Disaster Management), a project that adds capacity to the Government of Indonesia National Disaster Management Agency (BNPB) for disaster risk reduction initiatives. University of Hawai'i has engaged with Indonesia's disaster management community extensively during the past decade. The first phase of the project, INVEST-DM 1.0  (July 2019 – September 2020), and an earlier award from USAID, Building Resilience Through Training (2013-2017), focused on improving planning and systems for education, training, and workforce development, with a cross-cutting focus on gender and inclusivity.
The University of Hawai'i at Mānoa's key focus in INVEST-DM 2.0 is to facilitate opportunities for knowledge exchange, workforce development, and capacity building for improved national and subnational coordination in disaster management. There are three main ways in which UH is leading this effort:
Hosting a virtual U.S.-Indonesia knowledge exchange webinar series for the disaster management community;

Planning a "study mission" of senior officials from Indonesia's BNPB to U.S. equivalent disaster management agencies; and

Offering a cross-institutional, multi-lingual, cross-cultural Disaster Management and Humanitarian Assistance seminar course through the University of Hawai'i at Mānoa Department of Urban and Regional Planning
The virtual webinar series features senior leadership and subject matter experts in disaster management from Indonesia and the U.S. The series is scheduled to take place between October 2021 and February 2022. Topics include Accreditation, Certification, Lessons Learned from Disasters, Emergency Operations Centers, as well as Management and Leadership in Disasters. Audience members include BNPB staff, disaster managers, policy makers, decision makers, civil society organizations, planners, media, law enforcement, military, and others.

In the spring of 2022, INVEST-DM 2.0 plans to facilitate a study mission to provide opportunities for Indonesian officials to visit, exchange information, and learn about in-service/pre-service training in the United States. Participants will meet and exchange knowledge with U.S.-based disaster management professionals, tour disaster management facilities, and learn about disaster risk reduction curriculum development for national training initiatives. Planned site visits include University of Hawai'i, the National Disaster Preparedness Training Center, Pacific Disaster Center, East-West Center, Pacific Risk Management 'Ohana, National Domestic Preparedness Consortium, National Oceanographic and Atmospheric Administration, Department of Defense, Mercy Corps, Oregon State University, National Interagency Fire Center, FEMA, Emergency Management Institute, U.S. Agency for International Development, and others.

Last but certainly not least, the Plan 670 Disaster Management and Humanitarian Assistance course offered during the Fall 2021 semester at University of Hawai'i at Mānoa provides an opportunity for UH students to engage with students and faculty from University Indonesia (led by Professor Fatma Lestari, Dept. of Occupational Health and Safety and Dr. Micah Fisher) and Asian Institute of Technology (led by Professor Indrajit Pal, School of Engineering & Technology). With nearly 70 students in attendance on a weekly basis, students explore topics such as climate mitigation, early warning systems, disaster recovery, evacuation, technology, complexity, and more. Guest speakers have included notable faculty members from Indonesia and Thailand, a representative from the Joint Typhoon Warning Center, and senior disaster management officials like Professor Dwikorita, the Head of Indonesia's Meteorology, Climatology, and Geophysical Agency (BMKG), among others. Classes are taught in English and Bahasa Indonesia with interpretation as needed, and sessions leverage virtual teaching platforms like Zoom, Google Jamboard, and other open source tools to boost interactivity.

Through these combined efforts for INVEST-DM 2.0, the University of Hawai'i continues to contribute applied planning and policy solutions to address disaster risk reduction in the Asia-Pacific Region. This project demonstrates the critical role that universities can play in strengthening international planning efforts and sustaining relationships with humanitarian aid agencies, and philanthropic organizations throughout the Asia-Pacific region.

Please contact Dr. Karl Kim at karlk@hawaii.edu for more information about University of Hawai'i and NDPTC's contributions to INVEST DM.